2018 La MaMa Puppet Series from La MaMa on Vimeo.
November 1 - 25, 2018
Curated by Denise Greber
_______
"The downtown mainstay La MaMa E.T.C. (Experimental Theater Club), winner of the 2018 Regional Theater Tony Award, will present a monthlong festival of puppet performances by an international roster of artists. This isn't a children's theater event, though: The creators, mainly women, will be presenting shows that grapple with immigration, Black Lives Matter, disability and other weighty topics."
-Steven McElroy.
Full article
HERE
______
"Innovation goes hand in glove with theater at this biannual festival of new puppetry for grown-ups."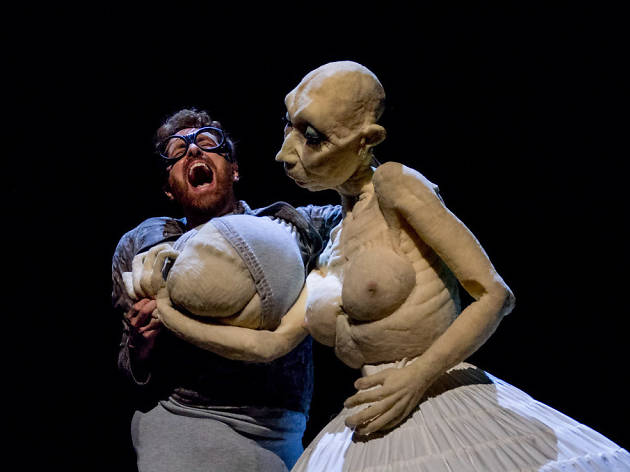 Photo courtesy of Patrick Argirakis, BLIND

"This year's installment of its biannual festival will include New York and world premieres of works by Chinese, French, Japanese, and African-American artists."
_______
La MaMa's Annual Puppet Festival Returns to New York
"For four weeks (November 1 - 25, 2018), La MaMa's Puppet Series presents work from artists around the world including Germany, Brazil, Netherlands, Japan, Colombia, China, Belgium, and the USA."



Next on the horizon is the 2018 edition of the biannual La MaMa Puppet Festival — touted as their biggest yet — running Nov. 1-25. The director and curator of the festival since the beginning has been Denise Greber, a Downtown actress who has been with La MaMa since 1999. "I started working with Ellen [Stewart] on a puppet series in 2004,"Greber noted. "Ellen always loved puppetry. It's always been at least 20 percent of the programming at La MaMa. It was a small series at first. But it's continued to grow."

Full Article HERE
_______


See multiple shows in the 2018 La MaMa Puppet Festival for one low price!